What is triathlon? What is the history of triathlon? An increasingly popular sport in France and around the world, triathlon is not a new sport. We propose here to retrace its history over the years.
First of all, for those who may not know what exactly this sport is all about, what is triathlon?
Triathlon is a sport discipline consisting of three endurance events in sequence. These three disciplines are in order: swimming, cycling and running. Participants are called triathletes. The triathlon is declined according to different environments as for the cross triathlon or the winter triathlon.
When did the triathlon start?
The triathlon officially appeared in 1974 in the United States. It is realized and designed by Jack Johnstone and Don Shanahan and sponsored by the San Diego Track Club at Fiesta Island near San Diego, California. It is over distances of 8 kilometers in running, 8 kilometers in cycling and 450 meters in swimming.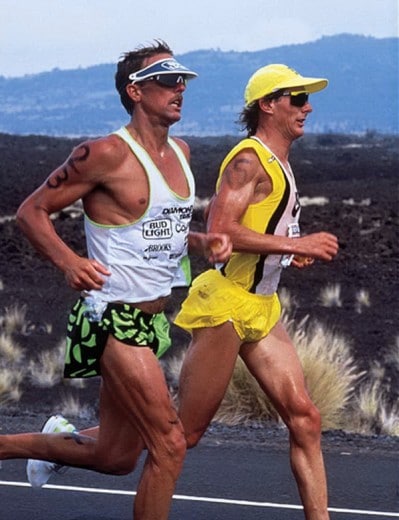 So this is the modern form of triathlon, i.e. with the 3 sports of swimming, cycling and running. But the term triathlon has been used since long before for competitions that included three sports. For example, the first "triathlon" competitions were held in France between 1902 and 1935, in which swimming was replaced by canoeing.
But the great evolution of triathlon in Hawaii came in 1977. John Collins, captain of the US Navy, proposed to run three of the toughest events in Hawaii to prove the qualities of the best athletes. Triathlon was then redefined while retaining the 3 sports of 1974. It is also in 1977 that the term "Ironman" appears, invented by John Collins to designate the winner. Today, an "Ironman" is the name given to one of the longest formats of the discipline.
Is triathlon an Olympic event?
Yes! Since the Sydney Olympics in 2000 triathlon has been an Olympic sport. The standard distances are 1,500 metres swimming, 40 kilometres cycling and 10 kilometres running.
Who manages triathlon at the world level today?
This sport is managed and structured at world level by the International Triathlon Federation (ITU). There is also a set of National Federations that may apply ITU rules.
What are the distances in triathlon?
Super Sprint Distance: 300m swim, 6km bike ride and 2.5km run,
Sprint Distance: 750m swim, 20km bike ride and 5km run,
Olympic Distance: 1.5km swimming, 40km cycling and 10km running,
Distance 70.3 or half ironman: 1.9km swimming, 90km cycling and 21km running,
Ironman or full distance: 3.8km swimming, 180km cycling and 42km running,
And who manages the triathlon in France?
In France, the French Triathlon Federation manages and structures this sport. It is also called by its abbreviation F.F.TRI.
Don't hesitate to join us to experience the magic of triathlon together. We provide you with training plans adapted to your level. In addition, you can book the coach of your dreams and rely on his experience to boost your performance. See you soon on vosentrainements.com